Ecommerce
E-commerce:
Prepare a
product file
that sells well
A good part of your commercial success on the Internet relies on your site's visibility and your ability to convince customers who reach your virtual shelves. Even if you sell the best products at the best prices, if your site is not optimal, you will deprive yourself of many business opportunities.
The product file is where the consumer will make the decision to click to purchase, or click to exit your site. This is your best opportunity to convert a visitor into a customer.
In this article, we suggest a few ways to optimize the product files for your e-commerce and maximize your chances of success.
01
Use key words carefully
Search engine optimization (SEO) is fundamental for any website. For an e-commerce, good SEO can make all the difference between a sale for you or for your competitor.
You may have found this article through a search engine. If so, think about the path you took to get here. Your customers will necessarily follow a similar process. Keep in mind that in many cases they are not looking for a product, but rather a solution to a problem.
For example: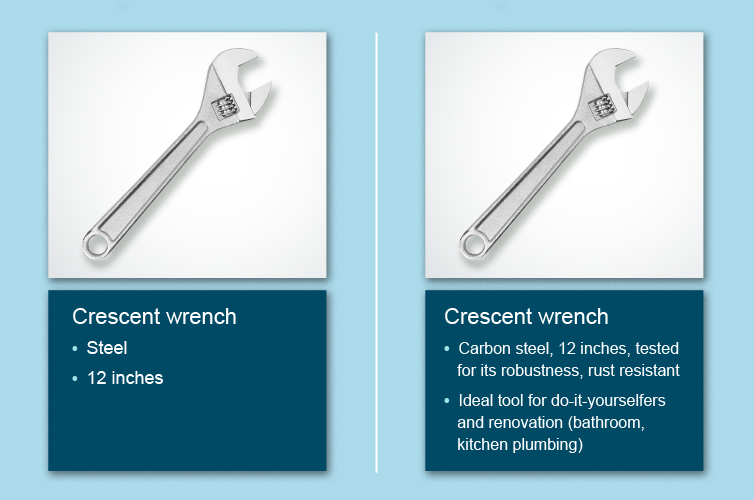 The first image is particularly simple. An individual who is looking specifically for a 12-inch steel crescent wrench has strong chances of coming across this image. However, the customer knows exactly what he wants, which is rare.
The second file is less product-oriented and focuses more on the problem that the product solves. Someone who looks on a search engine for "plumber renovation tool for the bathroom" may come across your crescent wrench.
The lesson to learn from this example: Your product file should blend seamlessly with the search process of the customers you are trying to attract. This doesn't mean that you should stuff a file with key words, since search engines can recognize this type of dishonest practice. Your goal should be to understand the path taken by customers to reach your site so that you can position yourself strategically on their path by using appropriate key words.
To help you identify the key words that your potential customers use and to better understand the importance of key words in the SEO, refer to this excellent article published by HubSpot.
02
Inspire confidence and understand your clientele
You certainly believe that your product is useful and that it has a good quality-price ratio. The description that you make of your product should reflect this confidence.
Once again, think about the customer experience first. A generic description that focuses solely on the basic features of the product is not very attractive. Obviously, you have to provide basic information on the product, but your files should also have something unique, specific to your business. What is your product, why is it better than your competitor's? If you are selling the same product as your competitor, show that you know this product inside and out. Prove that your store is the best place to find it.
Think about your customers too. Who are they? Try to define the profiles of your ideal customers and ask yourself which approach is best suited for them. This will help you to determine the nature of your content, the tone to use in your texts, the level of language to use, etc.
03
Seduce with images
The worst blunder to commit on a product file is omitting to include at least one image of the product. Once a customer has been attracted by your product file, the image is one of your most important tools. An online store without images gives the impression that your shelves are empty.
The image of your product sends unique details to your customer. Unlike a traditional store, your customer cannot handle, weigh or examine the product. You must simulate this experience with a clear, well-composed and telling photo.
If you can, show several images that show the product from various angles. Also choose high resolution images so that customers can zoom in, appreciate the details, the texture, the quality of the materials, etc.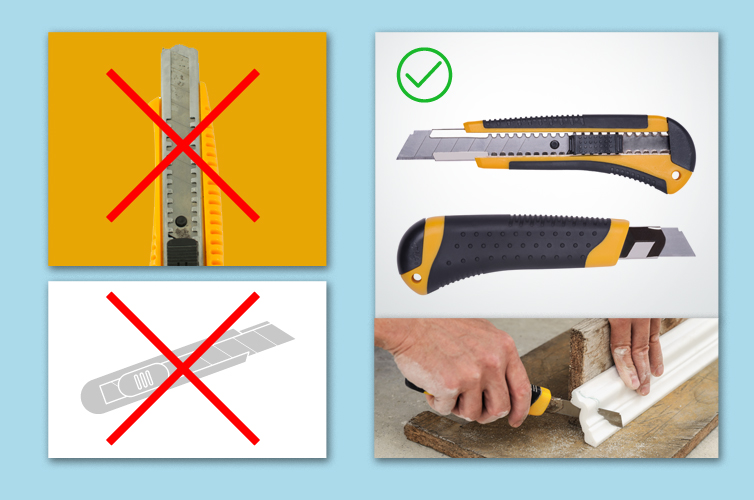 Choose the right tool
Several tools are available on the market to set up an e-commerce. They don't all offer the same level of customization, so make sure that you choose one that meets your needs and lets you make unique and convincing product files.