Acomba tricks
Acomba training: An important asset for your career
To get an employer's attention, it's essential for you to stand out. Knowing the tools required for the position you want or that you have is an excellent way to stand out from others.
In accounting, and even in administration in general, mastering a management program is a solid skill that could tip the scales in your favour.
Our Acomba software is a great example. Used by tens of thousands of employees in Quebec, Acomba is omnipresent in local small and medium-businesses.
That is also one of the reasons why more than 150 educational institutions in Quebec teach their students how to use Acomba: to help prepare them for the job market!
The skill that makes the difference
Can mastering an accounting program actually help you in your career path? Do a quick search for Acomba on Jobillico and see for yourself! You will find over a hundred professional opportunities.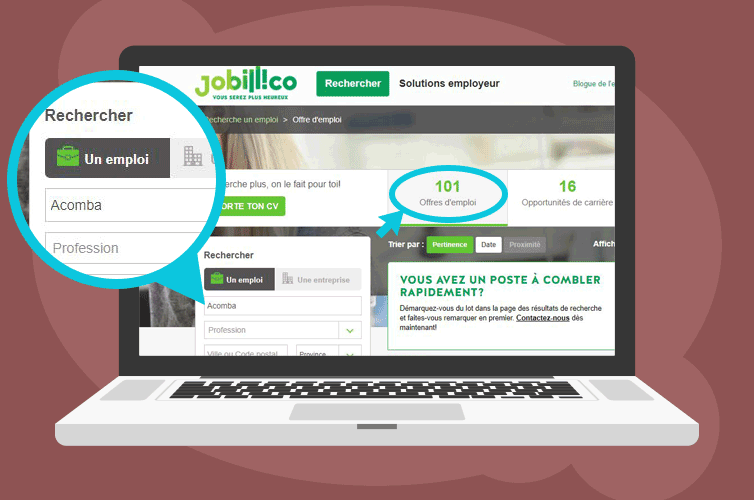 Still, we delved deeper into the question and spoke to Guillaume Chabot-Racine, who learned Acomba early in his career path.
Guillaume studied accounting at cégep Garneau in Quebec City. He discovered Acomba in class to complete a school project. He then had to use Acomba in other school projects and that's how he learned how it works.
Guillaume recounts: "I had to use Acomba in a professional context for the first time during my first practicum, at Hamel Comptable for a summer."
Guillaume knows that his knowledge of Acomba was an important asset for the employer. "I did my second practicum in the same firm and then they hired me as an accounting technician." He has been working at Hamel Comptable for 4 and a half years now.
For the accounting technician, and even more...
Guillaume and his classmates quickly realized that knowing how to use Acomba is a big plus for most employers in the accounting field in Quebec. An employer that Guillaume met with as part of a practicum at university confided in him that between two equally qualified candidates, the one who knows how to use Acomba has an advantage.
Guillaume will take the CPA exam when he finishes university. "Even at university, Acomba is useful for verifications and for interviews for practicums," he says. Knowing how to use Acomba definitely gives an edge to candidates looking for a practicum or a job.
"I strongly recommend learning how to use Acomba to everyone who wants to become an accounting technician or accountant and even to anyone who want to take care of a business's accounting management. The solution is intuitive, complete and helps to understand accounting in general," says Guillaume.
Other than accounting technicians, accountants must still make checks and must regularly answer questions from clients who use the software. Therefore, knowing how to use Acomba is a real advantage for future CPAs. "It is definitely an experience that will help you in your academic career and later in your career," Guillaume concludes.
Exceed expectations!
By mastering Acomba before you enter the job market, you will have an additional tool in the eyes of several employers and will therefore increase your chances of finding a job quickly at the end of your studies.
If you are already farther along in your career, there is still time to seek additional skills that will make you an even more attractive candidate. Continuing education is an excellent way to keep up-to-date and renew your knowledge over time.
Where to follow Acomba training?
The educational institutions in your region are not part of the 150 institutions that teach Acomba?
The Acomba Training Centre offers more than 30 online training courses to help you become more efficient, master the various functions of the software and save time in performing your daily tasks.
Learn the key concepts with our experts!
Discover Acomba training sessions