Management tips
Technology
How to fully
benefit from
your accounting
software?
With the arrival of affordable, user-friendly technologies, bookkeeping has become highly automated. Easy access to accounting applications means that few businesses still use the manual method or the traditional Excel sheets.
This article was revised and updated in May 2019.
Even though accounting professionals have widely adopted the automatic carry over of entries in their practice, too many still hesitate to do away with a number of manual processes. Out of habit or due to a lack of knowledge of their software, some professionals unnecessarily complicate their lives by taking detours that their work tools could allow them to avoid!
Did you know that you can use your accounting software to...
01

Automatically process bank reconciliations

Manually checking transactions one by one is a long process that involves a major risk of making mistakes as well. Most of the time wasted reconciling accounts is often due to a human processing error. Yet, the majority of software applications offer the possibility of automatically importing a bank statement (or via .OFX file).

A bank reconciliation that takes several hours to do manually can be settled automatically in just a few minutes
02

Use the web to send data to the government

The calculation of source deductions and government taxes is a sensitive item for accountants. It is essential that the calculation be fair and error free. The best way to achieve this is to use software tools rather than a calculator.

Most accounting applications offer a preconfigured declaration report, automated accounting entries and even an electronic transmission of amounts to Clic Revenu.
03

Invoice your customers and have them pay electronically

Paper invoicing and sending account statements by mail is a little old-fashioned. Not only is it costly, but it's also an incredible waste of time! Software applications like Acomba now have integrated web invoicing systems which reduce the time between issuing, sending and paying an invoice.

With these systems, invoices are sent on a web platform accessible to customers at all times. In addition to viewing their invoices online, customers have access to the balance of their account and can pay by bank transfer or credit card. Obviously, the payment is reconciled automatically based on the invoices paid in the accounting system.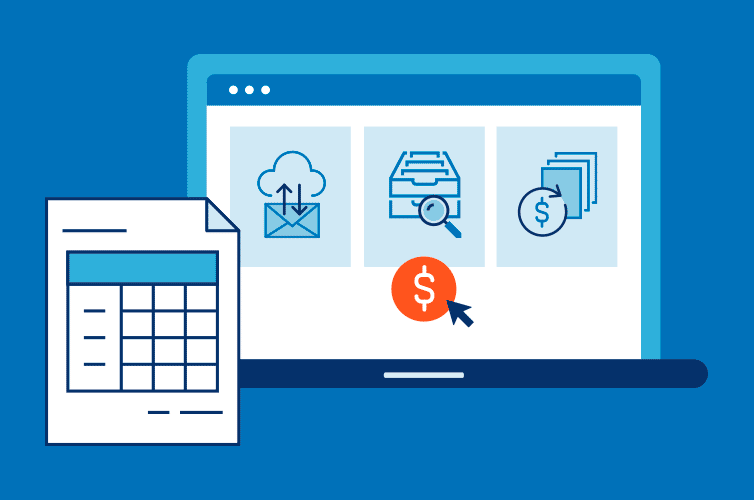 04

Pay your suppliers electronically

Some businesses continue to prepare a series of cheques each month to pay suppliers. This principle is still ingrained for entrepreneurs who want to continue following the traditional method of signing cheques to keep control over cash disbursements. Technology now offers much better ways to reach this goal.

With a platform like ACCEO Transphere, sending bank transfer instructions directly from the accounting software offers up to two payment approval levels. The owner therefore has the luxury of refusing a fund disbursement before it's made. Once refused, the deletion of a payment is displayed in the accounting system in order to remit the invoices to pay. No more cheque drawers!
05

Do away with paper pay slips

Stop printing your employees' pay slips! In any case, your employees want to be able to view their salary data and tax slips on their phone and have them on hand when they need them.

Services like MyPaycheque.net send pay slips by mass email in just a few minutes. The platform even offers you an online portal where you can send your employees interesting news items.
06

Optimize your processes with connected solutions

Your software can do a lot on its own, but by combining it with various connected solutions which communicate with each other and greatly reduce the repetition of similar tasks, you actually maximize its potential.

Whether it is to manage your customer relationships, your sales pipeline, service calls, timesheets or sell online, there is a solution that will meet your specific needs to enable you to optimize your management processes and propel the performance of your business.
The tools are there, take advantage of them!
Now that the majority of businesses have incorporated management technologies in their daily activities, it's time to go further. In an increasingly competitive world, entrepreneurs can no longer wait until the end of the month to get their results. They need immediacy and productivity.
The examples given in this article are just the tip of the iceberg; today's applications offer endless possibilities to optimize the work of bookkeepers and make the lives of entrepreneurs easier. The tools are there, all you have to do is take advantage of them!