Sub-contracting Payroll Calculation? Really?
You will no doubt be surprised to learn that the step that all companies must perform, file maintenance, is responsible for no less than 83% of the overall cost of running the payroll.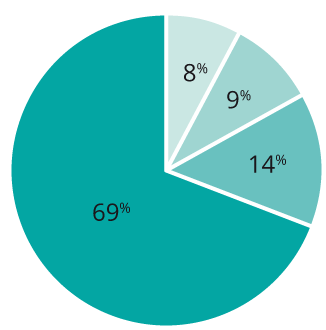 Your tasks
14% to creating and managing employee files
69% to compiling payroll data (hours worked, benefits, vacation, etc.)
Outsourced tasks
8% to pay calculations, issuing cheques, transferring direct deposits and government remittances
9% to end-of-period tasks and producing T4s and RL-1s
The actual payroll preparation process only constitutes 17%. That 17% is where using Acomba Payroll will allow you to profit.
The Real Costs of Sub-contracting.
Each operation performed by a payroll service costs money depending on the complexity of the task, number of pay periods or the number of employees. This represents a major and recurrent investment.
Typically, you have to pay:
Basic fees from $17 to $25 per pay period
Fees around $1 per pay to produce
Fees between $1 and $2 per T4, RL-1 or employment record to issue
Fees for each special monthly report required
Fees to create employee files
Fees to include current cumulative amounts on pay slips
In comparison, the purchase of the Acomba Payroll Solution costs about the same regardless of the number of employees. The only variable is the cost of supplies. The following table shows cumulative cost of hiring a payroll service versus managing the process internally.
Five-year Comparative Study.
(11 employees over 52 periods)


3 months free without obligation*
*Acomba payroll software must be used.
A must for managing payroll tasks in all industry sectors.
Acomba Payroll reduces payroll-related expenses by eliminating hidden costs and the need for an outside service.
A program that meets your needs
Automatically calculates both provincial and federal source deductions, union dues as well as employment insurance, QPP and CPP contributions, etc.

Manages contributions to the Health Services Fund

Calculates CSST contributions in real time

Manages payrolls by department or accounts

Manages detailed timesheets, calculates payroll amounts, archives data and provides time verification documents

Manages type of hours worked

Manages individual work schedules

Categorizes hours worked and pay amounts by project or cost center (Cost Analysis required)

Manages employee functions and specific pay conditions

Tracks, manages and archives time worked and pay amounts associated with specific agreements

Report printing in XML, PDF, TXT, RTF, etc. formats
Flexibility
Payroll calculations according to tax regulations in each province or territory

Simultaneous management of hourly wages, fixed salaries and commissions

Creation of specific remuneration modes

Definition of company-specific earnings, employer contribution and employee deduction parameters

Eight possible payroll frequencies

Taxable benefits management

Alimony management

Check/stub format defined according to department or employee

Complete individual employee files

T4s, RL-1s and modifiable employment records

Multicompany option for managing several companies
Performance and Efficiency
Payroll direct deposit

Vacation pay management

Check printing or direct deposit

Note management and customer file tracking in support of specific agreements and justifications

RRSP management

Management of inactive employees and temporary absences

Employee expense categorization

Time clock data import

Employment record (form or white paper stock)

Security and data access management (Customization and Security required)

Standard T4s, RL-1s and their summaries (paper or electronic file)
Customized reports, worksheets and analyses
7 Reasons to Manage the Payroll Process Internally.
Managing the entire payroll process internally has several advantages over outsourcing.
Flexibility
Managing the entire payroll process internally adds flexibility to your operations. You can correct information at the last minute without incurring additional fees, slowing down production to add a new employee or access reports and payroll archives.
It's also easier to respond to your employees' questions, which also facilitates your pre-audit preparations.
Savings
Integrating applications allows you to save time on data entry and processing, which increases productivity. In addition, contrary to external solutions, managing the payroll internally requires no additional investment when employee numbers increase.
Adaptability
Your accounting system, including the payroll processing software, adapts as your company grows supporting efficient management of employee relation standards.
Interaction with MyPaycheque.net
Using the information compiled in Acomba Payroll, MyPaycheque.net offers you to transmit paycheque stubs to your employees by E-mail. Hence all that precious time wasted every period handing the documents hand to hand is available for productive use again.
MyPaycheque.net also includes a corporate library where you can store administrative documents or forms for your employees to download.
Practical elements
Managing the payroll internally allows you to centralize production operations for your branches and travelling employees, which produces economies of scale.
In addition, you have all the information needed to get an accurate picture of your company's financial situation as you control access to all your data.
Integrating data into accounting management
Data are available for all modules of your accounting system. This integration eliminates double data entry and reduces the risk of errors due to manual operations.
Process control
You have complete control over your data, which reduces the risk of compromise and there's no extra charge for high-volume tasks.