For all of your company's accounting and
ongoing management needs
Sets the standard for SMB accounting software.
Uses a modular approach to help you adapt to your company's needs.
Supported by an experienced team that is always available to provide expert assistance.
Key characteristics
Multi-station / multi-user / multi-company
Electronic document transfer to Clic Revenu
Cheque printing
Accounts receivable management
Accounts payable management
Statements of account
Financial report production
See the complete list of required configurations
For Use in
Local Mode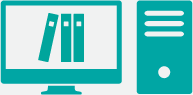 $799
Your Management Modules
General Ledger, Accounts Receivable, Accounts Payable
Three-Month Silver+ Service Plan Subscription*
Unlimited telephone tech support
Updates
Service RapidAddress
Add
$499
To Move to the
Comfort Edition
Service Plan Extension
of up to 12 Months*
Personalized Start-Up Assistance
Configuration, installation,
and basic training
Online Training
Acomba environment course
*Service plan must be renewed annually to ensure continued access to telephone tech support and updates. Speak with an advisor to learn about applicable rates..
For Use in
Cloud Computing Mode

Starting at
$103/month
Your Management Modules
General Ledger, Accounts Receivable, Accounts Payable
Service Plan for Duration of Contract
Unlimited telephone tech support
Automatic updates
RapidAddress (depending on plan chosen)
Complete Hosting of Your Software
and Your Data
No installation necessary
No configuration necessary
Round-the-clock access from any device
Online Resources
Available through the SMB Portal*

Frequently asked
questions (FAQ)

Information
and New Features

User Guides
*An active service plan is required.