e-CRM
powered by CentrixOne
Do you want to improve your sales and facilitate
your communications with your customers?
Follow-up on your customer interactions efficiently
and no longer miss a sales opportunity with e-CRM!
Benefit from the numerous functionalities
of the e-CRM mobile and web platform
Customer accounts
Get an overall picture of your customers, including their contact information, designated contact person, current and completed tasks and related sales opportunities.
Emails
Create your own newsletters to communicate with your customers. Easily track opened emails and clicks after sending.
Opportunities
View the summary of your current sales and their evolution in the sales funnel. Perform more efficient follow-ups to avoid losing a potential sale.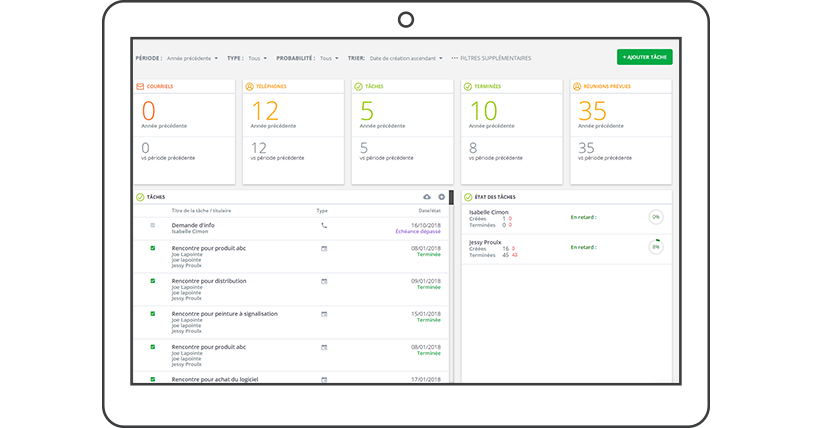 Activities dashboard
Benefit from an overview of all sales tasks carried out during a specific period or by a specific sales representative.
Overview of tasks
Simplify the follow-up of all your planned tasks using a clear table and produce summary reports.
Key features
Manage

opportunities

Follow-up on potential customers by integrating your calendar in the software to easily plan your important follow-up meetings.

Manage contacts

and customer files

Consolidate your business processes and make your job easier by having your customers' latest contact information on hand at all times.

Email

sending tool

Send the right message to the right person at the right time and effortlessly create attractive emails with an easy to use editor.

Dashboards

Easily check your sales information, your representatives' activities and no longer miss a sales opportunity by using clear, concise and accessible dashboards.

Online document repository

Rapidly access your contracts and other important documents at all times, and be confident that your sales representatives are providing their customers with the right version of sales documents.

Marketing

automation

Automatically execute planned actions or repetitive tasks, such as sending emails and reminders and target your public according to their actions and preferences.

Web

analysis tool

Assess your web presence objectively and effectively by capturing and analyzing your web data (pages viewed, visits, etc.).

Synchronization with

Acomba and Acomba X

Automatically generate customer files in Acomba with contacts created in e-CRM (and vice-versa) and associate by default your transactions with a customer in e-CRM.

Support

service

Benefit from the help of our experts for your startup, and unlimited access to technical support and updates and new features.
Price
Have your needs assessed by an expert. There's no obligation.
Starting from
$45

/month

+ $399 in startup fees
Detailed functionalities
Sales
Plan follow-ups of sales opportunities
Consolidate contacts and their profile
Integrate your calendar in the e-CRM software
Contacts and customers
Create customer files
Assign contacts for each customer
Create price and discount lists applicable to each customer
Emails
Create and send emails using an integrated tool
Analyze the results of the communications you send
Apply standards and Canada's Anti-Spam Law for sending emails
Dashboards
Produce clear and concise dashboards
Analyze your sales data and your representatives' activities
Data backup
Deposit your contracts and other important documents
Backup marketing presentations and campaign images
Web tools
Capture and analyze your web data
Integrate your social media pages in your customer communications
Marketing automation
Plan recurring tasks (sending emails, follow-ups, etc.)
Program automatic responses
Target your public according to their actions and preferences
Data synchronization
Synchronize contacts created in e-CRM with your Acomba software (and vice-versa)
Associate quotations, orders and invoices from your accounting software with the customer file in e-CRM
We also recommend:
e-commerce
Launch your online store and manage all your operations in a single platform connected to Acomba.
ProgressionLIVE
Create quotations and invoices on the road and manage your service calls with the mobile application connected to Acomba.